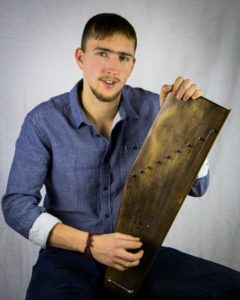 I`m Gorchakov Sergey (Yar Tur), the craftsman and founder of the workshop "Baltic Psalteries". I was born in St. Petersburg in 1988 and my early career was working as a car mechanic repairing cars as well as selling them. In 2009 I finally decided to leave the big city and relocate to the countryside.
It was here I started to study the old traditions, crafts and culture of ancient peoples. At folk festivals I met people studying folk art, met llya Ahrameev, which had a huge impact on my future creative life.
My immersion into the world of an ancient culture largely occurred through contact with Ilya. He shared with me his experience and knowledge and played a major role in creating the workshop "Baltic Psalteries".
In 2010 I made my first psaltery as a gift to my sister. I had never previously held the psaltery in my hands. The first instrument I made was from old photographs. In 2011, I made two tools by drawings Mehnecova. In the beginning of 2012, I met the famous master of psaltery Sergey Shamov. After this I was managed to produce my first high quality tool. At one of the festivals in 2012, I had the idea that i would love the psaltery to be made available to everyone. I wanted to make this tool at 5-6 times cheaper than tools from other craftsmen, while not inferior in quality to the more expensive counterparts. The psaltery is an amazing instrument. It`s easy to learn but very rich in its possibilities. This instrument has a long history, but until recently it was not available to everyone. For this reason, I decided to find a way to move them in the nation to combine a low price with high quality. I finally managed to do it!
Due to the existence of our workshop the psaltery became available for everyone. We managed to make a big shift in promoting the psaltery tradition.
Now the psaltery can be played by everyone!